Highlights
- The most beautiful men's performances in Manila!
- Manila nightlife where you can enjoy both sexes!
- The last Dokdo is our land! ~ I will become a patriot!
- Every Sunday is closed! Booking
confirmed:
- When the payment is completed, the reservation for the tour is completed.
You can receive your voucher by email within 12 hours.
- If you have not received your voucher by e-mail within 24 hours, please contact us at our Customer Center at 1661-2372 or your friend "Tour Five" of KakaoTalk Plus.
Itinerary:
- If you do not have pickup service, you can go directly to Manila Film Center (near Sofitel and Mall of Asia).
- Performance begins at 8 pm - After 9pm, the actors will take a picture - home Travel
tips:
- If you are using the Manila Day Tour, we offer pick-up and sanding for your next show after the tour.
- Unlike Boracay and Cebu, the Manila venue is a non-reserved seat, so you can sit on a good first-come, first-served basis.
- Shooting during performance is prohibited.


Tour description

It is a show where you can meet the representative dances and songs from all over the world in one place. It is a gay show or a transgender show!



Manila's most beautiful men's show is an amazing show! Are you surprised because they are men? Where is a beautiful man like this? Really pretty guy (?) the Philippines or Southeast Asia, Lady Boy is the actor. Unlike the gay show in Thailand, the Philippines's Amazing Show is a healthy show that can be enjoyed by all ages, and it is the Manila nightlife that the whole family can enjoy together.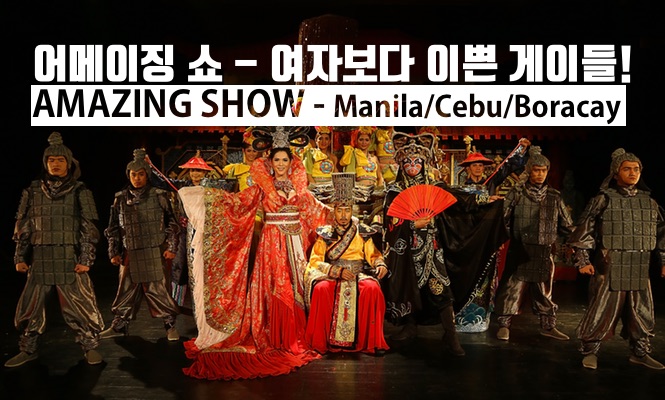 We will perform in different concepts every season. You will be immersed in the humorous and serious appearance of solid stories and professional actors. For the main tourists, Korea, China, Japan and Filipinos, we are making and developing dances according to the traditional songs of each country. In addition, this performance is a concert to communicate with audiences, so you can create unforgettable memories.