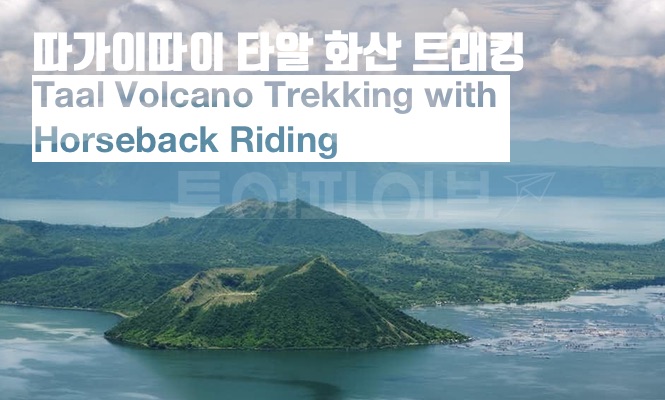 Highlights
– Enjoy Manila activities alone! / For only your team, We will leave at the time and place you want.
- Let's go to see the world's smallest volcano!
- It is a popular tourist destination that the locals of Philippines also found, with fantastic views and cool temperatures!



- Experiencing the land and sea to ride a boat and 

 climb a small volcanic island with hourse.






Booking confirmed: 



- When the payment is completed, the reservation for the tour is completed. 



You can receive your voucher by email within 12 hours. 



- If you have not received your voucher by e-mail within 24 hours, please contact us at our Customer Center at 1661-2372 or your friend "Tour Five" of KakaoTalk Plus.
Itinerary:
- [08:00 am]
Specified tour time -
Pick up from the hotel
- [09:30 am] Go to Tagaytay City and go to Taal volcano resort
- [09:30 am] After hearing a brief explanation, board the boat to Taal Volcano Island
- [10:00 am] Arrive on the volcanic island of Ta'al and board the pony.
- [11:00 am] Climb to the top . Take a picture and feel the magnificent nature.
- [12:00 pm] Resort lunch after tour
- [01:30 pm] Return to Manila after the tour
- [4:00 pm] Arrive at Manila Hotel
08:30

Pick-up from Select Hotels in Metro Manila

09:30

Tagaytay City

Go on a 1.5-hour ride to Tagaytay City, one of the country's most popular tourist attractions, known for its arresting scenery and cool climate.

Taal Lake and Taal Volcano

Head towards the rim of the 30-kilometer wide caldera, and let the view take your breath away.

Picnic Lunch

Transfer to the lake shore and enjoy Filipino dishes for lunch.

Horse-ride to the Summit!

Board a motorized outrigger boat and embark on a 20-minute cruise to Volcano Island. Ride a horse to the crater rim viewpoint. See several vents spewing steam on the way up.

Crater Lake and Vulcan Point

Upon reaching the summit, catch a magnificent view of the 2-kilometer Crater Lake with its gleaming emerald waters. See the volcanic cinder cone known as Vulcan Point emerging from the lake, which makes it is an island within a lake on an island within a lake on an island!

17:30

Drop-off at Select Hotels in Metro Manila